Are you searching for something fun to do with your little ones this summer and beyond?
There's something special about visiting the theatre with the whole family – and it's not just the sweet treats, magical merchandise, and the well stocked bar (for the adults!) It's a whole experience. The excitement of choosing a show, the counting down of the days until it arrives, the moment before the curtain rises to reveal a magical set…
Whether you're 3, 93, or anywhere in between, you're invited to dress up and join us for an adventure into a magical world where anything can happen. Our stage is a spellbinding place filled with special effects, music, and famous faces from the worlds of film, TV and even books.
So whether you're delighted by Dragons, fond of fairies, or you dig a dog called Duggee, there's something for everyone this year at Hall for Cornwall. Set in the heart of Truro, a stone's throw from Falmouth, Newquay and St Austell, we're the hub of entertainment in Cornwall.
Come and see what's happening in our theatre in 2023…
Join us for stories, crafts, music, games and more with our friendly and energetic Get Creative Team! Each week has its own theme, and is often related to the productions on our stage, so you can experience the magic of the theatre with our experienced creative practitioners!
Recommended for ages 2-6 years, this workshop is £4 per child, and it's free for adults and younger siblings.
Find out more about this fun workshop in Truro here.
Every Wednesday through August 4.30pm-6.30pm in our Green Room Cafe
Get stuck into some serious free-flow Peter Pan-themed crafting fun!
Perfect for creators ages 4-9 and we've even thrown in yummy afternoon snacks for an adventure to Neverland. Tickets are £10 with packed tea or £4 without.
Led by our creative band of brilliant buccaneers, get ready for paper, pencils, gems, glue and – of course – a sprinkling of pixie dust (by which we mean glitter!).
TUE 29 – THU 31 AUG
Calling all brave heroes! Enter into a magical world of myths and legends From the creators of the international smash hit Dinosaur World Live…
Dragons and Mythical Beasts is packed full of magical creatures and magnificent monsters, like the colossal Stone Troll, the not so friendly Tooth Fairy and even a unicorn! Don't miss this spell-binding adventure, live on stage in Truro, Cornwall for one week only.
WED 13 SEP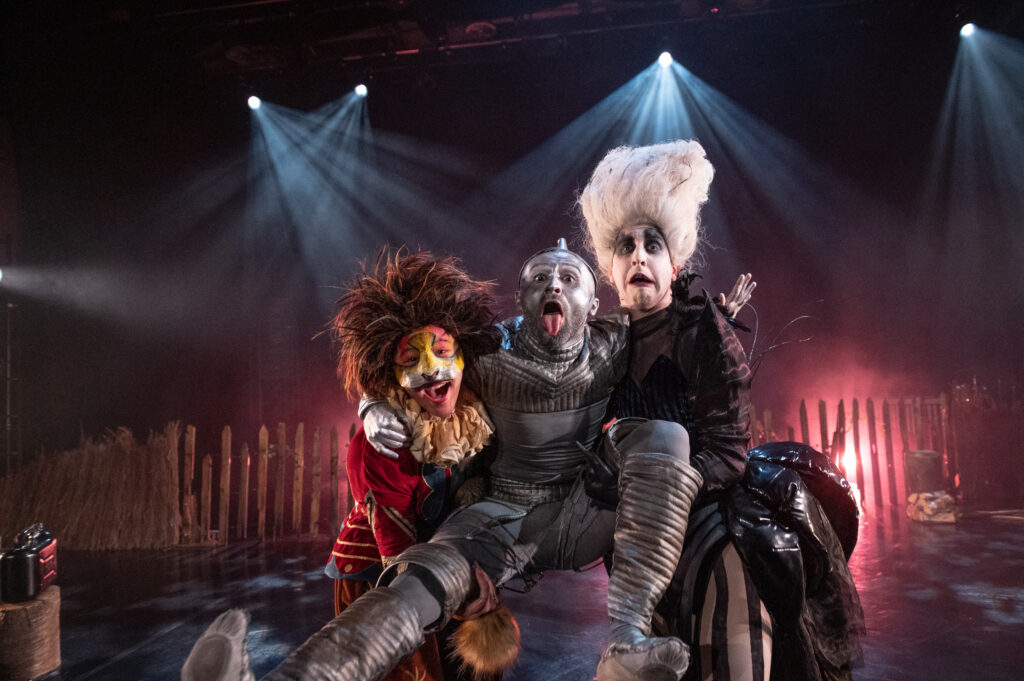 Joss Arnott Dance presents a magical new retelling of a classic story, seen through the rusty eyes of the Tin Man and their journey to finding their heart and happiness. This magical show for all the family is the perfect way to cap off the summer in Cornwall. You can even meet the cast and get some magical photos, so you can take a piece of the show home with you!
TUE 19 – SAT 23 SEP
If you're searching for something for teenagers and yound adults, don't miss this thrilling production. From the imagination of Neil Gaiman, best-selling author of Coraline, Good Omens and The Sandman (now a major Netflix series), comes the National Theatre's major new stage adaptation of The Ocean at the End of the Lane.
This five-star spectacular from the producers of War Horse and The Curious Incident of the Dog in the Night-Time is a thrilling adventure of fantasy, myth and friendship, taking audiences on an epic journey to a childhood once forgotten and the darkness that lurks at the very edge of it. It's giving us serious Stranger Things vibes!
MON 32 – TUE 24 OCT
Tom Fletcher's interactive adventures for big imaginations are leaping from page to stage, as the beloved Who's in Your Book? series makes its debut as a brand-new musical show in the Cornwall Playhouse!
With an invitation to his friends, Dragon, Alien and Unicorn to join him, you can expect comedy and chaos as they help to create a magical show, learning about the joy of books and friendship along the way. A high-energy 50-minute adventure featuring lively original music, this show is the perfect introduction to live theatre.
By J.M. Barrie
MON 04 – SUN 31 DEC
Looking for a way to make Christmas in Cornwall extra special?
Following the fizzing festive fun of 2022's Treasure Island, we're getting ready to sprinkle fairy dust through Cornwall with Peter Pan! Journey with us to naughty Neverland where dangerous pirates and a certain crocodile are lurking…
Come fly with us! Stuffed full of pesky pirates, freewheeling fun and a gaggle of lost boys and girls, take flight with Peter, Wendy and of course Tinker Bell too!
"Peter Pan" is presented by arrangement with Great Ormond Street Hospital Children's Charity and Concord Theatricals Ltd. On behalf of Samuel French Ltd. www.concordtheatricals.co.uk.
And if this wasn't enough, check out our What's On page for our full programme of events. There's musicals, dramas, comedy, films, talk shows and live bands to knock your socks off.
Hall for Cornwall is the place to be in 2023 – and beyond!
Photos by Hugh Hastings