On 15th September 1890, the Queen of Crime, Agatha Christie, was born. Author of at least 66 detective novels and 14 short story collections, including And Then There Were None, The Mousetrap, and The Mysterious Affair at Styles – featuring the one and only Poirot – Christie is celebrated around the world for her genre-defining work. The Guinness Book of World Records names Christie as the best-selling fiction writer of all time, as her novels have sold more than two billion copies!
As a creator of mysteries, it's no surprise that this sensational writer was an enigma herself…
"Very few of us are what we seem." – Agatha Christie
Image © The Christie Archive Trust
Surfing in Hawaii, an obsession with fast cars – her life was filled with one surprise after another. Born into a wealthy upper-middle classic family in Torquay, Devon, Christie was mostly home-schooled. At age 5, she taught herself to read, and found a love of storytelling – it was around this time she began writing her own tales. As she grew up and found her voice, her early stories received a total of 6 rejections, but finally, in 1920, her talent was recognised when The Mysterious Affair at Styles – featuring Belgian detective Hercule Poirot – was published.
As her fame began to take off, she longed for a way to explore other writing styles, inventing the pseudonym Mary Westmacott. Under this name, which she wrote 6 semi-autobiographical novels exploring human psychology in greater depth. Her daughter Rosalind Hicks described them as "bitter-sweet stories about love", and nobody made the connection between Christie and 'Mary' for over 20 years.
She married her first husband in 1914 – and had one child – before divorcing in 1928 when he met somebody else. Following the breakdown of her marriage and her mother's death in 1926, Christie's mysteries became a reality when she made international headlines by going missing for eleven days. Her car was discovered in a quarry, and after an anonymous tip, police discovered her in a hotel in Harrogate, where she is alleged to have been staying under the name of her husband's mistress. She claims to have had amnesia, and cannot remember the period of disappearance – to this day, historians argue about where she went and what happened to her.
Articles from the Surrey Advertiser and Surrey Times at the time of Agatha Christie's disappearance in 1926 (Image: Surrey Advertiser)
In 1930, she re-married an archeologist, and spent several months each year visiting him in the Middle East. Her time here further fueled her first-hand knowledge of this profession which makes an appearance in her stories. During both World Wars, she worked in hospital dispensaries, discovering the uses of poisons that featured in many of her novels, short stories, and plays.
In 1955, Christie became the first person to win the Mystery Writers of America's Grand Master Award – and in the same year, Witness for the Prosecution received an Edgar Award for best play. Then in 2013, 600 professional novelists from the Crime Writers' Association voted her as the best crime writer of all time, and The Murder of Roger Ackroyd as the best crime novel ever.
Her novel And Then There Were None is one of the best-selling books of all time (approximately 100 million copies have been sold!) and has been adapted for TV, Film and theatre. Next year, we welcome a new adaptation to the Cornwall Playhouse, directed by Lucy Bailey (Witness for the Prosecution, now in its 6th year in London).
You can a see it for yourself from 26 – 30 MAR 2024.
Continuing along the Hall of Fame, her stage play The Mousetrap holds the world record for the longest theatre run. It opened in the West End on 25 November 1952 and ran until September 2018 with more than 27,500 performances! There was a pause in its run from March 2022 to May 2021 due to COVID-19 restrictions, and now it continues to play.
This October, we're thrilled to welcome the production to Hall for Cornwall in it's 70th year of touring. Starring Todd Carty and Catherine Shipton, this unmissable mystery follows a group of seven strangers who find themselves snowed in at Monkswell Manor, a remote countryside guesthouse. When a police sergeant arrives, the guests discover – to their horror – that a killer is in their midst! See it this autumn, and solve it for yourself…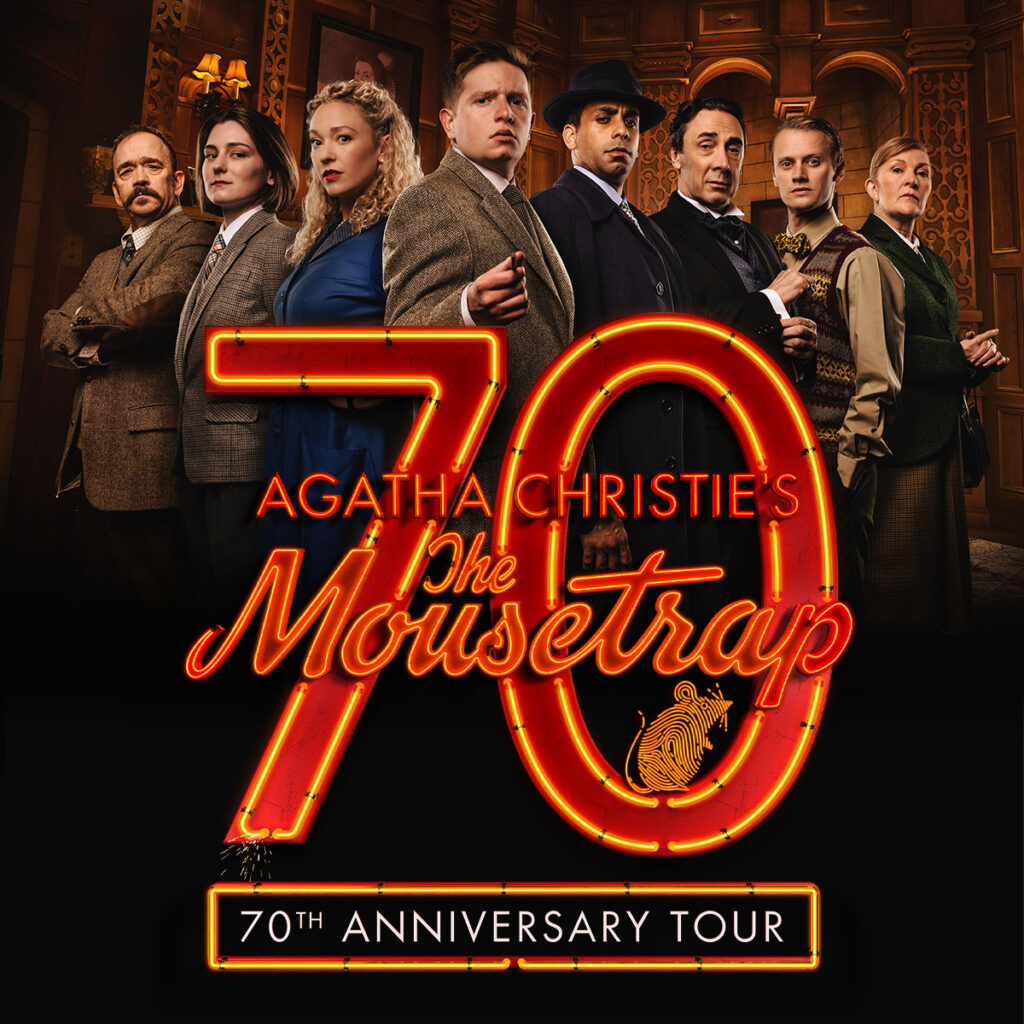 Agatha Christie has inspired generations of crime writers, and countless adaptations of her work, for television, radio, video games, graphic novels, and more than 30 feature films.
Whether you're new to Christie or love a good mystery, we're delighted to welcome her greatest works – and a special appearance from her lovable Belgian detective – to the Cornwall Playhouse in 2023 and 2024.
Check out And Then There Were None, The Mousetrap, and David Suchet: Poirot and More, a Restrospective to discover more about this sensational female writer.